Canoe tour to B&B Geijersholm Herrgård

A 2 day trip with one wilderness overnight stay in a tent and one night in the comfortable B&B Geijersholm Herrgård.
Prices
B&B tour
1200 SEK per canoe + 1395 SEK for B&B night (double room with breakfast and diner)
Includes
- Canoe, paddles, canoe cart, life jackets, watertight barrel, rope, folding spade, sponge, garbage bags, tour description.
- 1 overnight stay including diner with non alcoholic drink and breakfast at B&B Geijersholms Herrgård.
- Transport at the end of the tour back to Värmlandsgården.
Excluding
Other meals and camping equipment
Starting
Every day
Book extra
Material
One price for usage
during the entire tour
Camping stove (including
pots and 1 gas)
200 SEK
Trekking tent (2 pers.)
300 SEK
Sleeping mat (self-inflatable)
100 SEK
Fishing license
Price depending on fishing area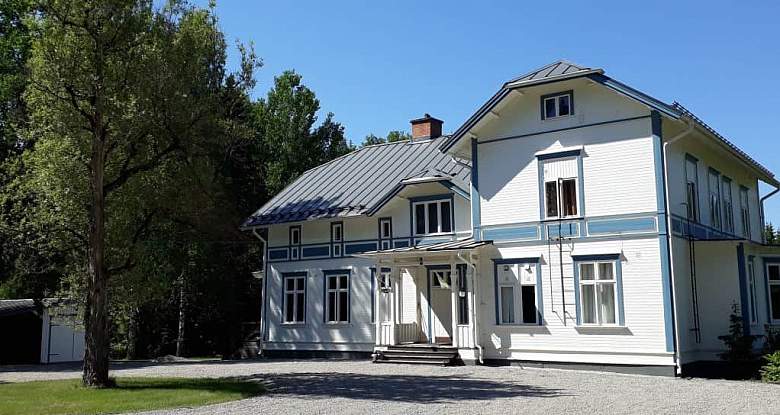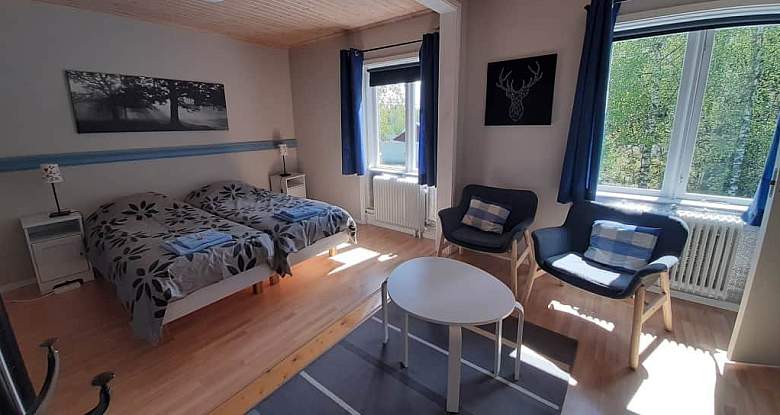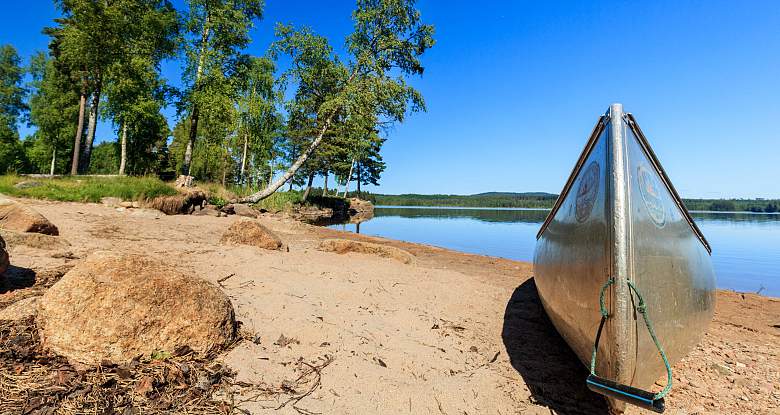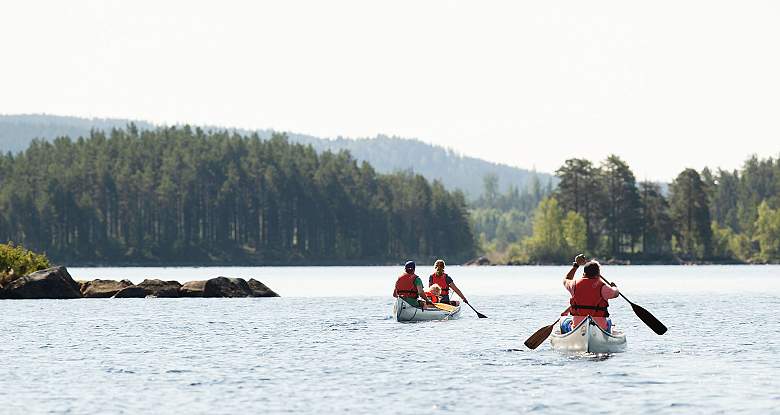 About the B&B canoe tour:
A 2 day trip with one night under the stars and one comfortable night in the cosy B&B Geijersholm Herrgård. This tour is of an easy level and excellent for families with children and beginners. You will pass several large lakes with fantastic views. The tour also takes you past several uninhabited islands where you can set up camp. With some luck you can spot deer, crane birds or other wildlife along the way. Based on 2 days there is plenty of time along the way to swim, fish, make a fire, grill, and explore the uninhabited islands and riverbanks. However, it is possible to finish the tour in 1 day.
From Värmlandsgården you paddle north over the beautiful lake Deglunden. The route then turns south on lake Dragsjön and continues over lake Ämten.
Suitable for: Families with children / beginners
Level: Easy
Distance: approx. 20 kilometers
Land transports: 2 land transports, both 900 meter
Program:
Day 1: Between 10.00 and 17.00 you arrive at Värmlandsgården. You will receive instructions about the material, the route and the tour will start. Paddle over lakes and rivers and experience the wilderness. Set up camp on one of the beautiful islands, grill a freshly caught fish over a crackling fire and watch the sun sink into the lake.
Day 2: Continuing the canoe tour and in the afternoon the arrival at B&B Geijersholms Herrgård. After arrival you wel get an transfer back to Värmlandsgården between 16:00 and 18:00, where your own car is parked. In the evening you can enjoy a delicious dinner is served at the B&B (1 non-alcoholic drink is included).
Day 3: Breakfast at the B&B
If unplanned or additional transport are required, an extra charge may apply.
Further information
Booking, reservations or questions? Please contact us:
Outdoor- and nature activities in the beautiful nature of Värmland.